UNITY
Itzyzex: Script Inspector 3
SkywayInteractive (Developer): UI Screenshot Creator
Leopotam : LeopotamGroupLibraryUnity (Examples, Test Script, Pirates Gulf)
Database (SQLite) Setup for Unity
kamobanger: try the plugin beautify it boosts the texture to very very high quality. recommended asset. it also doesnt eat performance likeother image effects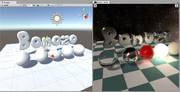 badmai:
BOCS Shot - Create photorealistic screenshots
"I used 'blow' font")
[NOTE: MOVE TO APPROPRIATE SECTION] re: new Top Caster screenies, M_O_J_O_E : The font is Bangers from google fonts
HammersEdge : i haven't bothered with the theme asset recently. because it's kind of buggy with recent versions. https://github.com/zios/unity-themes . http://i.imgur.com/kOmdnln.jpg this is a screeny of the theme thing
adventuretimeworldwide : checkout unlit linear gradients in the Asset store @BonozoApps
Flix and Chill uses Fungus (like Playmaker)
UziMonkey et al Unity Editor Themes
Diaonic : @BonozoApps Regarding your PS4 controller mapping. I typically don't buy unity assets, but I did purchase Rewired and it's fantastic for different controller mappings, supports pretty much everything multiplatform
Kino/Bloom v2 Bloom is a high-quality image effect that adds bloom/veiling glare effect onto rendered images.
UNITY VR
VISUAL STUDIO
Syntasu: ReSharper, CodeMaid, Viasfora
CHROME
themushmouth: Reddit Enhancement Suite
FIREFOX
Wish was in Chrome: Tree Style Tab
PHOTOSHOP
GoodIdeaCo used PuppetWarp to make the gooey Bonozo text